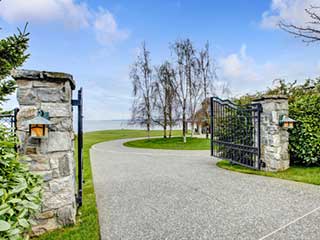 The peace of mind afforded by being able to control who gets on your property from the safety and comfort of your home or business is hard to live without once you've had it. However, if an automatic gate breaks down, it can bring your whole life grinding to a halt. Fortunately, for residents of Queens and nearby areas, professional gate repair services have never been cheaper or more accessible.
Flexible and Experienced Technicians
Gate Repair Queens employs a team of expert technicians who are intimately familiar with every aspect of swinging, sliding, and lifting gate operation and care. Whatever kind of system you use, and whatever problem it may have, you can count on our professionals to have it in great shape again very quickly. Our team will do whatever it takes to work with your schedule and zoning restrictions.
Products From Top Manufacturers
Openers, intercoms, and other components are always available for installation. Our company orders parts from trusted manufacturers, like LiftMaster, Doorking, and All-O-Matic, and our technicians will always be happy to advise you on the best models for your property and gate system. From wireless intercoms to underground operators. The range of available options is very extensive.
Diagnostics and Repairs
It's not always apparent what's causing the problem when a gate stops working properly. While external damage to the track, bars or panels is easy to catch, these surprisingly complicated systems can also suffer from a variety of electrical and mechanical malfunctions that only a trained professional can identify. Our team does electrical and motor repair work as well as welding and carpentry, and carry a wide selection of replacement parts with them to every job.
Replacement and Installation Services
In addition to repairing damaged or malfunctioning gates, our team can replace your entire system, or even build a new one from the ground up. Whether you want a simple, functioning sliding steel gate, or an ornate, swinging wrought-iron work of art, our team can help. Our technicians can build you a system that suits your needs, aesthetics, and property, including extra features such as sensors and intercoms.
Book An Appointment Today:

Satisfaction Guaranteed

Same Day Emergency Service

Custom Made Gates Available

Emergency & Preventative Repairs