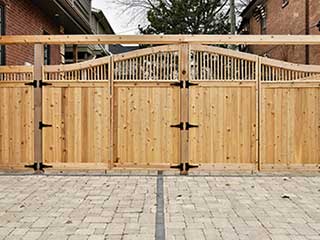 Contrary to popular belief, wooden gates are not a thing of the past. The two best things about them are that they are relatively easier to install and have a classic quality that makes them simply beautiful. Wooden gates also offer a variety of if design options, which makes them suitable for all sorts of residential and commercial properties.
That Special Quality
There's something about wood that brings to mind a homey appeal that most people seem to be drawn to. It's a great way to give your property a classic and quaint appearance before they even set foot on it. This type of material has a lot of benefits, but also some potential downsides, and before you decide on whether or not it's right for you, you should make sure that you're aware of the main ones.
More Durable Than What You May Think
When compared to a metal gate, it is fair to say that a wooden one is not impressively durable. Steel and wrought iron gates perform far better when it comes to longevity, provided that they are taken proper care of. That being said, wooden gates can be easier to work with. Just because they are not as durable as some of the other alternatives does not mean that they do a horrible job of securing your property. They're certainly more durable than aluminum, for example. But again, not on par as other types of metals. Luckily, wooden gate repair can often be simpler than with other types of material.
The Maintenance Requirements
While wood can be beautiful and offer a lot of curb appeal to your property, keeping this material in presentable shape takes some work. You need to repaint it regularly in order to protect it from moisture and the constant exposure to the elements. If moisture seeps through, it can cause the wooden gate to rot or start warping, which will ruin it's visual appeal rather quickly. During the moister times of the year, this can be a real issue. Rot will cause it to decompose, which means it will spread throughout the wooden parts and will gradually grow more and more visible and offputting. There's also termites and other pests that might want to start chewing down on your gate and you'll need to ensure that it's adequately protected from them. If you find yourself in need of rotting gate repair or some other type of service, look no further than Gate Repair Queens.