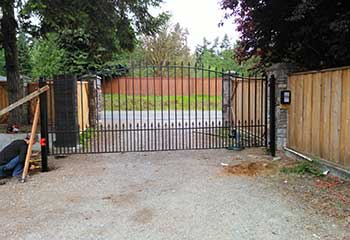 Sliding Gate Installation
Customer Issue: Miss Sawyer's new gym and yoga center took off, and she wanted to make her clients feel more secure staying there for hours at a time. A sliding gate for the driveway with an intercom for customers to call in from seemed like a good solution.
Our Solution: There was plenty of room along the street-facing fence, so long as we trimmed back the bushes a bit. We cut a slice across the pavement of the driveway entrance and installed some steel tracks to go with the wheeled sliding aluminum gate. A LiftMaster RSL12UL opener mounted along the fence provided the pull, and we wired an intercom system in to supplement the opener's smart controls.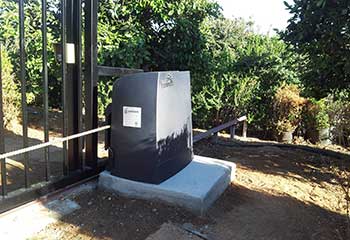 Gate Opener Installation
Customer Issue: A swing gate opener was in poor condition and needed to be replaced with a new one.
Our Solution: The DoorKing 6100 Dual swing gate opener proved a perfect fit for this customer's wide, double leafed gate. The 6100 fit onto the preexisting opener mounting pad, so installation was a simple matter once the old unit was removed. Our team also added some extra insulation to prevent insect damage.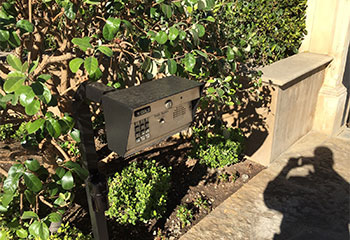 Gate Intercom Repair
Customer Issue: The customer's intercom system was failing to properly connect, producing static and muffled sounds at best.
Our Solution: When asked about recent changes to his property, Mr. Mannheimer talked about new metal-reinforced roofing he had installed. We moved the intercom's control node to near the door of his house, out from under most of the new roofing and reinstalled it, and the signal became much clearer.
Dieter Mannheimer
- Brooklyn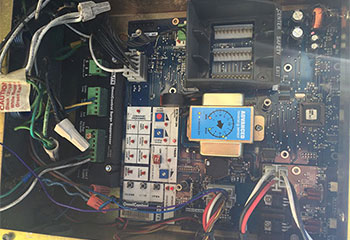 Gate Troubleshooting
Customer Issue: The customer's gate started acting up inexplicably, working sometimes, but refusing to open other times.
Our Solution: A thorough inspection of the opener and its connections revealed that a built-in power cord was badly frayed, causing the battery to recharge more slowly than it should. After our team removed the cord and installed a replacement, the gate was once again able to function whenever it needed to again.