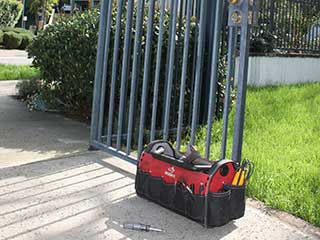 When a problem causes your gate to get stuck or to refuse to close, you need to get it working again, fast - that's where we come in. Our team offers same-day emergency appointments to get your system on track and operating reliably once more. Services are available 7 days a week, so don't hesitate to get in touch with our team.
A Solution For Any Problem
A faulty gate is a big problem for any business or residential property. If you can't get your car out of your driveway, employees can't get into their office building, or deliveries can't arrive at your warehouse, daily life and work routine will grind to a halt. This costs money, and our team appreciates how essential it is to deliver a quick solution. Our expert team has more than a decade of experience working on all makes and models of gate systems, so whether the underground opener is malfunctioning or the intercom system has a glitch in the circuit board, our technicians can get the problem solved in little to no time.
Fast and Reliable Gate Repair Services Near You
Seeking help from local experts has plenty of benefits, especially when urgency is a major concern. You won't have to look very far to find help when your automatic gate starts acting up. Just give us a call, and help will be on the way. There is a wide range of problems that gate systems can develop, many of which are particular to specific types of systems. This means there's a dizzying number of things that can go wrong; worn and cracked hinges may need to be welded or replaced, safety sensors may need to be realigned, and various parts of the automatic opener can break or fry. Whether it's a corroded electrical wire or a larger part that requires some type of repairs, including the bars or the panels of the gate itself, you can trust our team to handle it quickly and effectively.
Confidence In Quality Brands
Our company doesn't believe in simply putting together a quick fix when a complex problem occurs. It's important to us that you'll be able to rely on our work to last for a long time, so our technicians only use parts from the best brands and top manufacturers available today. Thanks to many years of experience working in the industry there's no complex scenario that our experts haven't already dealt with before.
Don't Delay - Get Help Today
Even small problems can quickly develop into major issues, and there's no need to take risks by attempting the DIY approach. Simply get in touch with Gate Repair Queens today, and get a fast and long lasting solution to any problem you may have.
Our team can also take care of:

Gate Motor Repair

Sliding Gate Chain Replacement

Doorking Gate Opener

Aiphone Gate Intercoms