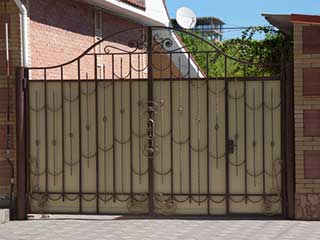 An automatic gate has a lot to offer you. It can enhance the security of your property as well as its curb appeal. However, it can experience various issues which can make it a hassle to deal with. Of course, with regular maintenance, those problems will occur less and less often, but some malfunctions can still be unavoidable, so it's important that you know how to deal with them when they happen. Different types of systems will be more vulnerable to different issues. Here are a few of the more common ones.
A Sagging Gate

This is a common problem with swing hung gates that normally occurs when the posts and hinges start to become loose. Leaving the system in this position will only lead to more problems, such as a failure to latch properly and damage to the frame. You should get it fixed as quickly as you can. You can try to tighten the hinges and lubricating them and make sure the posts are set up properly and aren't shaking. If some extensive repairs are in order, get our experts to do it so you don't accidentally damage the system while trying to perform DIY repairs.

Noisy Gate Movement

If the system starts making a lot of noise each time you open or close it, check the hinges. If you have an automatic rolling gate, check the tracks and the wheels. If you find rust or blockages of debris, you'll need to treat them appropriately. Use a rust remover and give the parts a good scrapping, and make sure to get rid of any debris or dirt you find. These can eventually prevent the wheels from moving at all, which means your gate may get stuck if you neglect this problem.

Different Electrical Problems

Unfortunately, your automatic gate isn't just likely to malfunction due to problems with its hardware parts. The opener - which is the unit that allows the system to operate automatically - uses all sorts of electrical components, and if any of them fries or suffers some other type of physical damage, it can create all sorts of issues. From a gate that won't open to erratic movement and seemingly random opening and closing. These sort of problems should be left to the experts, as they require a lot of skill and experience to repair. Luckily, there's a gate service company right near you. Use our online system to book an appointment today.