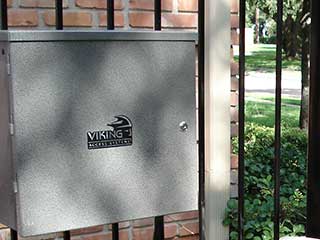 Problems with your gate's main drive system can be extremely inconvenient. Issues can include slow and jerky movement, unreliable operation, or even a complete lack of response. All of these issues are frustrating, and make life difficult. That's why you need to call us when problems arise, to receive same day repair services that can cover any problem your opener may have. If you decide it's time to replace the unit with a new model, that's another avenue in which our technicians can help.
A Range Of Solutions
Our team has more than a decade of experience to draw upon when searching for the root cause of an opener malfunction. This means that whether the drive gear has worn out, the safety sensors are in need of adjustment or the internal components have corroded or fried, our technicians will be able to quickly determine what the issue is and apply the appropriate solution. Because there is a wide range of problems that can arise through opener faults, our experience lets us deliver results in a short time frame.
Only Quality Results
Reliability is vital with any system that gets as much use as your gate opener. Compromising on quality is out of the question, because you need to know that you can rely on this mechanism to function smoothly and properly every day. Because of this, our team only works with manufacturers that we trust to deliver the high level of quality we demand for our customers. Major industry names like Ramset, Elite and Eagle, are among the different brands you can find us using.
Upgrading To a New Model
Our technicians are fully capable of installing a new gate opener at your property. Whether you're looking for an above ground articulated arm system, or an underground unit, our technicians will liaise with you to ensure you're getting the perfect product for your home. Once all the relevant factors have been considered and all the extra features you may want have been discussed, our team will install the new gate opener to our high professional standards, guaranteeing reliable operation from the very start.
Don't Wait For Things To Get Worse
There's no need to delay - our team offers same-day services for urgent problems, as well as weekend appointments. So if you encounter any type of problem with your automatic opener, don't hesitate. Give us a call or use our online system to book a service appointment. Gate Repair Queens is here to help with any related need you may have.
Give our team a call if you need help with:

Steel Gates

Carper Remote

Electric Gate Repair

Linear Gate Intercoms