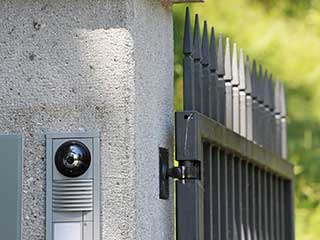 We offer a wide range of intercom services, from repairs to installation. Read all about our wide range of services below.
Expert Installation Of New Intercoms
All of our technicians are highly trained professionals, and are very skilled at installing intercoms quickly and correctly. No more waiting around for hours for someone to show up, or technicians that can't get the job done. When you call us, we get the job done for you both thoroughly and on schedule. No matter how simple an installation may seem, it's a very technical and complicated job. Even a small or simple mistake during this process may lead to circuit failures and future problems with your intercom. That's why it's best to leave it to our experts to take care of.
High Quality And Quick Services
We offer the best, fastest gate intercom repair and installation services in Queens. Whatever you need, our professionals will be able to get it done. Intercoms are complicated pieces of equipment, and it takes a highly trained individual to be able to effectively repair and install them without slipping up and causing problems further down the line. We use only the best tools and parts, so rest assured that when we do a job we get it done properly.
We Repair Intercoms
A broken or malfunctioning intercom can be a big problem. That's why it's best to call us and allow our highly trained team of professionals to take a look at it. We'll have any faulty parts repaired or replaced in no time, allowing you to go back to your day to day life with an intercom that works properly and clearly.
Contact Our Professionals Now
Call Gate Repair Queens now for any of your intercom's needs! We'll book an appointment at a time that suits you best.